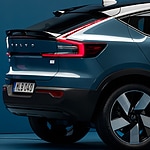 The 2023 Volvo C40 Recharge is an all-electric crossover with plenty of room for both passengers and cargo, along with impressive towing capability. But that's not all this beauty has to offer. It's packed with technology features to keep Canton drivers connected and entertained.
The C40 Recharge has Google built in. With Google Maps, you're never lost. Real-time traffic alerts and GPS navigation keep you on track toward you destination. Google Assistant lets you stay in touch with friends and obtain important information with just the sound of your voice.
You're also sure to appreciate the numerous advanced driver assist options that make your drive safer and simpler every step of the way. These functions can alert you to lane drift, maintain a safe distance between vehicles, stop automatically to avoid collision and more. In addition, available luxuries like an advanced air purifier system and premium sound system elevate your driving experience.